that way!
riiiiight
so I took my dear Doris (not Pebbles!) out to the nearby lake - Lake Kemnade, or whatever the english name is. It was fun, i saw the sun for like 20minutes (obviously, it's out again, now I'm home...-.-).
On my way back I arrived at the busstation 10 minutes after the bus. Which only came 'round every hour. So I thought, why not go to the next station.
...
If you don't know me, you might not know it, but this happens a lot. And it hardly ever works out. Though, when I'm in the right mood, I like taking longer walks.
Preferably not uphill, though.
-.-
So I took the wrong road and walked uphill for an hour.
Found another bus, though - which came after only 10 minutes. So yay.
have a map: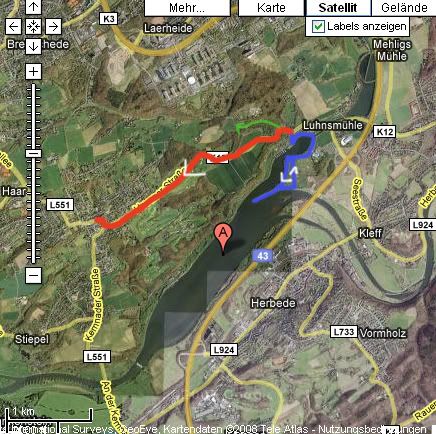 Blue marks the way around the lake I took to take some pics - until the sky was filled with clouds, and it really wasn't any fun anymore.
Green marks the direction, the bus takes.
Red is the way I took.
Oh, there also was no footpath on that road. only for the last 200m or sth. so yay for walking on a road, which surprisingly many cars. -.-
oh, also, if there's someone reading this who doesn't know it:
therealbella
is my photojournal, so if you wanna see the pics I took along the way, watch that account:D